by
Kevin Symonds
on Feb 11, 2013 in
Featured
,
Live in Christ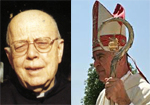 Bishop Ratko Peric has accused renowned exorcist Fr. Gabriele Amorth and his former assistant of censoring damaging information concerning the Medjugorje phenomenon.
In an article dated January, 2010 and entitled, "Questionable Games Surrounding the Great Sign", Peric discusses the history of statements made by the alleged visionaries concerning the sign to be left in Medjugorje.  During this history, Peric states Fr. Amorth, along with fellow exorcist Fr. Smiljan Dragan Kožul, "censored" a remark by alleged visionary Vicka Ivankovic-Mijatovic to author Fr. Janko Bubalo.
Amorth and Kožul served as Editors for the Italian edition of Bubalo's book A Thousand Encounters with the Madonna.  The Apparitions of Medjugorje Recounted by the Visionary Vicka.
In A Thousand Encounters, Fr. Bubalo relates a conversation he had with Vicka wherein they discussed a controversial event involving another alleged Medjugorje visionary Ivan Dragicevic.
According to Bishop Peric in Questionable Games, five of the six Medjugorje "visionaries" were approached in May, 1982 by an official Diocesan commission.  The commission requested the children write down the contents of the great sign allegedly predicted by the Madonna.  All five declined to do so, saying Our Lady forbade it.
Despite the above setback, Peric continues, the commission went to see Ivan who was miles away in seminary and without a working phone.  The commission approached him with the same request and he willingly obliged, writing on two pieces of paper the contents of the alleged sign.  These papers were each sealed in separate envelopes with the Diocesan seal.  One envelope was given to Ivan and the other to the Diocese.
Within a few years, Peric writes, Ivan denied having written the contents of the sign.  In March, 1985, the Diocese's envelope was produced, opened, and its contents demonstrated Ivan was not telling the truth as the text was in Ivan's hand detailing what the alleged sign would be.
Fr. Bubalo discusses the above story with Vicka in the original Croatian version of A Thousand Encounters.  Yet, Bishop Peric claims that when this book was translated into Italian and edited by Frs. Amorth and Kožul, the text discussing the damaging story was edited out.  Peric gives the full text in question as follows:
J[anko]: Once, the members of the episcopal commission asked you, and you specifically, to describe the Sign in writing, how it will happen and when it will appear, so that then the writing could be enclosed and sealed in front of you, and be preserved until the Sign appears.
V[icka]: That's correct.
J: But you did not agree. Why? It's not clear to me either. Some people say that only Ivan responded in some way, and I have never asked him.
V: I haven't asked him either. And I'm not going to ask him, but I think he didn't give them an answer. Maybe something mixed them up, but I don't have any more to say about it." (…)
[i] (emphasis Peric).
Peric then adds a note of commentary to the above:
"In the Italian edition, Fr. Gabriel Amorth and Fr. Smiljan Dragan Kožul censored the part in bold. For what motive? It's dealing with a text that well explains the Croatian word "spetljao" (= (It.) imbrogliato, "connived", "mixed up", "confused", "misled"), used by Vicka in the story about her colleague Ivan!"
There appears to be little information in English about Fr. Smiljan Dragan Kožul.  However, Fr. Amorth's support and even endorsement of the Medjugorje phenomenon is a well-established fact to English-speakers.
In a 2002 interview, Amorth is quoted as having said, "Medjugorje is a fortress against Satan. Satan hates Medjugorje because it is a place of conversion, of prayer, of transformation of life."  Amorth says later in the same interview, "Here in Medjugorje, Our Lady insists again that the laws of the Gospel are respected" and elsewhere admits to having led a Medjugorje prayer group since 1984.
In recent weeks, Fr. Amorth specified his position on Medjugorje in an interview with the publication Globus.  Amorth said, "I think that the apparitions are authentic" (Mislim da je ukazanje autenticno).
In the same interview, Amorth revealed he had kept Joseph Cardinal Ratzinger, now Pope Benedict XVI, abreast of developments on Medjugorje shortly after Amorth's pilgrimage there in October, 1981. With this new revelation, Amorth joins Fr. Rene Laurentin who also claims to have spoken with the Pope (John Paul II) on Medjugorje.
Laurentin himself has recently come under scrutiny for information he edited concerning Medjugorje (see also here).
Two months after Peric wrote Questionable Games, the Holy See announced it was establishing a commission of inquiry into the Medjugorje phenomenon.  Its conclusion(s) are eagerly anticipated by many of the faithful around the world.
---
[i] Peric gives the following citation:
J. Bubalo, A thousand encounters with Our Lady, pp. 134-136, II. edition, pp. 166-168.
The above is a shortened citation as the book is cited throughout the article.  In endnote 3, the following fuller citation is provided:
J. Bubalo, A thousand encounters with Our Lady, Jelsa 1985….Medjugorje, II. edition, 1998.
The Italian text has been made available for download in MSWord format here.  See pages 109-110 for the area in question.  It begins, "Però una volta i membri della commissione episcopale hanno chiesto a voi…."