by
Bishop Paul S. Loverde
on Mar 06, 2011 in
The Shepherd's Voice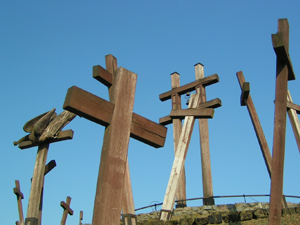 [Given by Arlington Bishop Paul S. Loverde on the Seventh Sunday in Ordinary Time at the Convent of the Franciscan Sisters of the Eucharist in Rome]
"The Lord said to Moses, '…Be holy, for I, the Lord your God, am holy.'" Jesus said to His first disciples and now to us, "…be perfect, just as your heavenly Father is perfect." How do we, in fact, become holy, become perfect? Well, if we try to respond in terms of cultural and societal wisdom, we shall not ever really learn how to become holy and perfect. Saint Paul was so right: "For the wisdom of this world is foolishness in the eyes of God…." Instead, we must "become a fool so as to become wise." When we are wise with God's wisdom, with His way of seeing and understanding what really matters, what is really true, then we realize and humbly accept the fact that we do not have what it takes to become holy and perfect. Holiness is possible, perfection is possible, only if it is given to us.
So, becoming holy, becoming perfect is the result of our being open and receptive to God's action within us, to the power of His transforming grace. And we can ask Him to make us holy and perfect with complete confidence because we belong to God in Christ Jesus from Baptism onwards.
A noted spiritual director and author, Father Jean-Pierre de Caussade, S.J., wrote: "…Perfection is nothing else than the faithful cooperation of the soul with the work of God, and it begins, grows, and is consummated in our souls secretly and without our being aware of it" (cf. Magnificat, Vol. 12, No. 12/February 2011, pp. 293-94). So, the question for every disciple of Jesus Christ and, therefore, for each one of us chosen by the mystery of God's love to share the ministerial priesthood or to live the consecrated life, the question is this: are we humble enough, honest enough, to admit our radical need and dependence on God so as to let Him work in us. He alone can make us holy and perfect but He can and will do that only if and when we give our consent, our "yes," our "let it be."
Human nature is frail and weak; we often forget the basics of the life of faith despite years of living the spiritual life. But, God in His infinite and faithful love gives us a season to come back to Him, to rediscover the basics of our life of faith, to renew and to deepen our response, our "yes": the season of Lent, which begins on March 9. Let us resolve today to open ourselves through more intentional prayer, fasting and almsgiving this Lent so as to allow the Lord to make us holy and perfect, that is, to transform us more into His image.
In addition to our proneness to forget the things that really matter, we also become weaker in our response to God's work in us to be holy and perfect by giving in to the temptations of the Evil One. So, instead of growing in virtue, we become less virtuous. For example, we are God's temple. Do we honor and respect our individual person and the person of others as the temple of God? Or, take another example: how do we respond to the foibles and human weaknesses of those with whom we live or work? Community life is not always easy, but it is the soil from which the virtues of true charity, patience and forgiveness can grow and develop — if we cooperate with God's grace.
The call to holiness — to Christian perfection — is clear! The Lord Himself makes this call and renews it daily. Only if we are truly wise can we respond — and to be truly wise is to understand that the Lord can make us holy and perfect if we allow Him by our free "yes," our response of "obedient faith." So, we echo what we prayed for earlier in this Mass: "Father, keep before us the wisdom and love you have revealed in your Son. Help us to be like him in word and deed." — And Jesus said and lived: "Father, not my will, but Yours be done!"