by
Lisa Hendey
on Feb 15, 2013 in
Education
,
Featured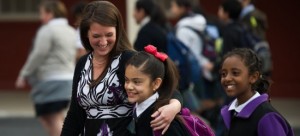 Today, I'm happy to feature the fantastic "ACE" program at the University of Notre Dame. The Alliance for Catholic Education is a true model for service in Christ to others. In this part of our feature, we share a recent conversation with Amy Wyskochil, Director of Operations for ACE, as we cover a basic introduction to the program.
Q: What are the goals of the ACE program?
First, we can clarify that the 'ACE program' is sometimes used as shorthand for the Alliance for Catholic Education's ACE Service through Teaching program, which was our first initiative, coming up on its 20th anniversary. Now the nation's largest program forming the next generation of educators for Catholic schools, it sends forth about 180 college graduates every year to serve as teachers in Catholic elementary and secondary schools in 26 dioceses around the country, with special attention to serving the needs of under-resourced schools and at-risk children. But the Alliance for Catholic Education is a lot more, too, with multiple services and initiatives, all with the unifying goal of sustaining, strengthening, and transforming Catholic schools.
Q: What are some of the goals of the ACE program?
The ACE Service through Teaching program is built upon and sustained by our commitment to three pillars—professional teaching, community, and spirituality.
We believe it is our responsibility to provide our teachers with the tools and skill-sets they will need to be effective. Through the M. Ed. component and other experiences, they must receive the best possible training to serve their kids well, whether or not they become lifelong educators.
Our teachers make a commitment to live and support one another in intentional Christian communities. They live together and support one another on a daily basis. This focus on community also encourages and supports them in giving back to the communities where they live and serve.
ACE teachers don't need to be Catholic, but it's our hope that they enter into this time of service with a steady and strong commitment to serve as role models of faith to their students and to keep growing and reflecting on their faith journeys.
Q: What types of people make good candidates for the program?
We're looking for college graduates, male and female, who have demonstrated academic excellence, a genuine desire to serve children, a deep interest in teaching, a strong faith, and a genuine disposition to the three pillars of ACE formation—professional service, spiritual growth, and community life. Entry into the two-year Service through Teaching program is highly selective; typically, ACE accepts one in four applicants for each year's cohort of 90 new teachers. In 2012, applicants from 167 colleges and universities applied to serve with ACE. Those selected for the new ACE cohort represent 37 undergraduate institutions.
Q:  What are some of the assignments people have accepted?
The formation process, which is integrated into a rigorous, two-year academic curriculum leading to a Master of Education degree from Notre Dame, includes two summers of intensive study as a community on the Notre Dame campus, plus assignments to teach for two years in one of more than 110 Catholic schools in 26 dioceses around the country. Most of these schools are located in inner cities, under-resourced, committed to serving disadvantaged children. These ACE teachers continue their curriculum throughout the year, with online courses, regular guidance and mentoring from ACE faculty and staff as well as on-site colleagues, living and praying in intentional faith communities, and pastoral services that support spiritual growth as members of a school's Catholic community culture. 
Q:  What does a typical ACE program participant go on to do once they have finished the program?
Annually, over 90% of teachers who begin their ACE Service through Teaching experience graduate in two years with their M. Ed. degree. Some 82% of ACE graduates continue to serve as educators after their two-year commitment. Five years out, 75% of ACE graduates have remained in the education field. Of those who remain in the education field, a significant majority remain in Catholic education. The competitive admissions process, combined with ACE's purposeful and supportive formation process, helps to yield high retention rates, especially in comparison to other teacher-training programs. Graduates retain strong bonds, and many join regional groups of ACE Advocates for Catholic Schools; 25 local networks across the country continue the work of leadership development, ongoing formation, and service to local Catholic schools and to the apostolate of Catholic education.
For more information on the ACE Service through Teaching program visit ACE.nd.edu.