by
Dr. Gerard Nadal
on Jun 12, 2012 in
Contraception & Abortion
,
Featured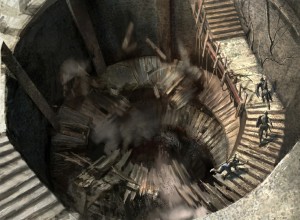 In March of this year an article calling for the normalization of infanticide for any reason was published and created something of a stir. In the fluid dynamics of this election year, the malignancy of the article was quickly overtaken by other events, and it is worthy of a revisit in some detail, especially in light of government-controlled healthcare and who has a vested interest in the new eugenics.
In analyzing this paper, one can only arrive at an apt analogy that runs afoul of Godwin's Law, which states: "As an online discussion grows longer, the probability of a comparison involving Nazis or Hitler approaches 1."
There is an exception to this rule, and that is when the contemporary circumstance under discussion moves beyond tenuous analogy and becomes recapitulation of history, echoing George Santayana's admonition that those who are ignorant of history are condemned to repeat its mistakes. In March of this year, no less a respected journal than the Journal of Medical Ethics (JME) published an article worthy of the rabid Nazi propagandist Julius Streicher's screeds in his publication, Der Sturmer. We do well to recall how Streicher and the other Nazi leaders who went to the gallows with him deemed Jews, homosexuals, the mentally retarded, and those with autism (among others) as, "Life unworthy of life."
Such analogy is quite apt in the case of the article in question.
The article, "After-birth abortion: why should the baby live?," by authors Alberto Giubilini (Department of Philosophy, University of Milan, Milan, Italy; and Centre for Human Bioethics, Monash University, Melbourne, Victoria, Australia), and Frencesca Minerva (Centre for Applied Philosophy and Public Ethics, University of Melbourne, Melbourne, Victoria, Australia) is published in J Med Ethics (2012). doi:10.1136/medethics-2011-100411 and may be viewed and downloaded here.
In their abstract, the authors state:
"Abortion is largely accepted even for reasons that do not have anything to do with the fetus' health. By showing that (1) both fetuses and newborns do not have the same moral status as actual persons, (2) the fact that both are potential persons is morally irrelevant and (3) adoption is not always in the best interest of actual people, the authors argue that what we call 'after-birth abortion' (killing a newborn) should be permissible in all the cases where abortion is, including cases where the newborn is not disabled."
[emphasis added, G.N.]
What follows is a three-page argument for redefining infanticide, beginning with justifying it on the basis of killing those handicapped that might have slipped through the genetic submarine net, and then opening the redefined infanticide to any parent killing their newborn for any reason at all. It is a fascinating and profoundly disturbing read into the process of malevolent apologetics.
The article begins with the typical appeal to the most extreme, grotesque, and heart-wrenching cases in order to establish the authors as reasonable and garner sympathy for the mothers whom the authors are, a priori, giving permission for and absolving of premeditated murder. The first example offered is Treacher-Collins Syndrome. As the authors state:
"One example is the case of Treacher-Collins syndrome (TCS), a condition that affects 1 in every 10 000 births causing facial deformity and related physiological failures, in particular potentially life-threatening respiratory problems. Usually those affected by TCS are not mentally impaired and they are therefore fully aware of their condition, of being different from other people and of all the problems their pathology entails. Many parents would choose to have an abortion if they find out, through genetic prenatal testing, that their fetus is affected by TCS. However, genetic prenatal tests for TCS are usually taken only if there is a family history of the disease. Sometimes, though, the disease is caused by a gene mutation that intervenes in the gametes of a healthy member of the couple. Moreover, tests for TCS are quite expensive and it takes several weeks to get the result. Considering that it is a very rare pathology, we can understand why women are not usually tested for this disorder."
The authors then move on to Down Syndrome, citing that only 64% of European cases studied were diagnosed in utero, leaving 1,700 live births whose mothers might very well have aborted had they known. Incredibly, the authors go on to state:
"Euthanasia in infants has been proposed by philosophers for children with severe abnormalities whose lives can be expected to be not worth living and who are experiencing unbearable suffering."
[Emphasis added, G.N.]
Lest anyone doubt that the authors do not intend those with Down Syndrome, they immediately follow this thought with:
"It might be maintained that 'even allowing for the more optimistic assessments of the potential of Down's syndrome children, this potential cannot be said to be equal to that of a normal child'. But, in fact, people with Down's syndrome, as well as people affected by many other severe disabilities, are often reported to be happy.
"Nonetheless, to bring up such children might be an unbearable burden on the family and on society as a whole, when the state economically provides for their care. On these grounds, the fact that a fetus has the potential to become a person who will have an (at least) acceptable life is no reason for prohibiting abortion.
[Emphasis added, G.N.]
"Therefore, we argue that, when circumstances occur after birth such that they would have justified abortion, what we call after-birth abortion should be permissible."
And there we have it, at this moment in time when the United States has its last chance to dismantle Obamacare with its rationing systems established by Donald Berwick, it is argued that the state has a compelling interest in not only screening and aborting those with genetic conditions who might lead perfectly happy lives if born, but there is a compelling reason for the state to intervene and commit infanticide for those who are born when it is the state paying the bills.
Then, to underscore their position, the authors state:
"Therefore, we claim that killing a newborn could be ethically permissible in all the circumstances where abortion would be. Such circumstances include cases where the newborn has the potential to have an (at least) acceptable life, but the well-being of the family is at risk. Accordingly, a second terminological specification is that we call such a practice 'after-birth abortion' rather than 'euthanasia' because the best interest of the one who dies is not necessarily the primary criterion for the choice, contrary to what happens in the case of euthanasia."
[Emphasis added, G.N.]
In that last breathtaking sentence, the authors leave behind Dr. Jack Kevorkian, the "Death with Dignity' movement, euthanasia, and even the vile excesses of the Dutch physician assisted suicide experience, propelling us into the scenario where those who may be perfectly healthy apart from even the mildest limitations imposed by a genetic condition may be murdered by their parents. In fact, the authors go even further when they state in their abstract:
" what we call 'after-birth abortion' (killing a newborn) should be permissible in all the cases where abortion is, including cases where the newborn is not disabled."
[emphasis added, G.N.]
Given the widespread practice of abortion on demand, no questions asked, this means that parents of newborns ought to have the right to commit infanticide for any reason at all. In the final analysis, then, abortion rights are simply being used as a moral and ethical pretext for the wholesale and indiscriminate murder of newborns.
Presumably fathers, who have no say in abortion because of a woman's bodily autonomy, would now have a right to murder an unwanted baby in order to escape the 'economic burden' of child support. While such a move would balance out the current inequity in paternal rights, it is an equality born in the pit of hell.
We have moved beyond the musings of an isolated radical such as Prof. Peter Singer of Princeton University and have, with this article, the evidence that such thinking has found a comfortable niche in the medical mainstream, as the article passed peer review and the exacting standards of the editorial board at a mainstream medical ethics journal. In so doing, they have all outdone the wildest excesses of Julius Streicher.
By 1938, Julius Streicher was too much even for Hitler's inner-circle, and was marginalized. What is incredible is that not even Streicher at his worst sank to the depths of such indiscriminate, blood-thirsty depravity in calling for infanticide as a function of nothing more than parental whim. Even Streicher had standards, such as they were. For Singer, Giubilini, and Minerva, hate-filled tirades are entirely unnecessary. For them, all that is necessary for infanticide is ice-cold indifference and detachment. Anti-semitic screeds and wild fulminations are so twentieth century.
People such as Singer, Giubilini, and Minerva have forfeit their membership in the ranks of civilized, moral, and ethical academics. Having argued against the two-patient model of medical care in obstetrics, which sees the fetus as a patient, they have now set their sights on the standards of pediatric medicine, which sees the newborn as an autonomous human being meriting all the rights of any other patient. Such a standard, if adopted, must necessarily be applied in every area of medicine where a patient of any age is dependant on others. When the comfort of the provider is the only standard for judging murder as a solution, how could it not?
In Part II, we'll see the authors' justifications for redefining infanticide in this paper which reads like a prosecutor's exhibit from the Nuremberg trials, or to quote the late Senator Daniel Patrick Moynihan, "Defining deviancy down."