by
Rebecca Oas Ph.D.
on Jul 26, 2013 in
Contraception & Abortion
,
Featured
,
International Issues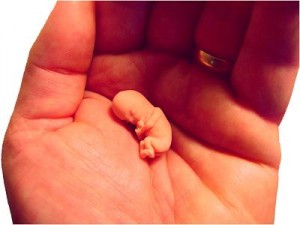 An 11-year old rape victim has unexpectedly turned the tables on the international abortion lobby as it seeks to use her plight to overturn Chile's pro-life laws.
The girl, known as Belén, is pregnant after several years of sexual abuse by her mother's boyfriend who threatened her to keep silent. Unlike other "hard cases" where abortion groups speak for hidden victims, Belén took her case to the media. She disputed her mother's claim that the sex was consensual, and stated she wants her baby.
"I am going to love it very much regardless of whether it comes from that man who hurt me," she said.
Even so, abortion activists continue to use her as a rallying cry. Amnesty International, one of several groups joined in a "strategic litigation" campaign to exploit rape and difficult pregnancies to roll back pro-life laws in Latin America, responded to Belén's situation by saying that criminalizing abortion "constitutes a breach of international human rights law." Going beyond the hard case of rape, Amnesty told Chile "to comply with their international obligations […] including the option of safe, accessible and legal abortion services."
The case erupted amidst the nation's presidential election. Immediately after Belén's story reached the news in early July, Chile's presidential candidates were asked whether they believed she should be able to have an abortion. Michelle Bachelet, who is running for her former position as president of Chile after serving as the head of the UN's top women's advocacy agency, told a radio station that "a therapeutic abortion, in this case because of rape, would be in order." Bachelet advocated for liberalized abortion while at the UN, arguing that it improved maternal health.
In fact, Chile has an excellent record on maternal health, second only to Canada in all of the Americas. Domingo Carbone from Siempre por la Vida pointed out in an interview on Al Jazeera, "Even in the US, more women die because of pregnancy." Epidemiologist Elard Koch reported last year that the nation's reductions in maternal mortality were linked with women's increased access to education. Chile achieved these improvements without legalizing abortion.
The strategic litigation campaign has swayed some Latin American human rights experts and jurists, but the attempt to create an international right to abortion has failed. In response to abortion advocates asserting that such a right exists, legal experts published the San Jose Articles, which demonstrates that "there exists no right to abortion under international law, either by way of treaty obligation or under customary international law." The document is meant to help leaders in countries like Chile protect their pro-life laws.
Chile's current president responded to Belén's plight. "In our country, the life of the mother is always the first priority," said Sebastián Piñera. "We are going to protect the life of Belén with all of the tools that medical sciences give us and with all of the care that our health system can provide."