by
Mary Rose Bacani Valenti
on Oct 14, 2013 in
Catechesis
,
Featured
,
Parenting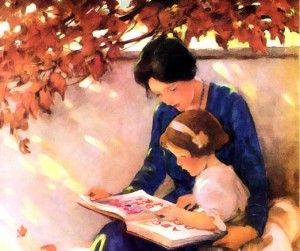 Five years ago, I stepped into a room to cover a news story for work. I was flustered because I was almost late getting there. I'm only going to be interviewing children, I thought to myself. It shouldn't be a big deal.
The session began. Fifteen children sat in a circle, an adult with them. After some silence, the adult began to read a Scripture passage slowly, gently and respectfully to the children:
"The Kingdom of Heaven is like a merchant in search of fine pearls, who, on finding one pearl of great value, went and sold all that he had and bought it" (Matt 13:45-46).
The adult moved pieces on a table that flowed with the words spoken – a small figure of a merchant, his home, and three chests of pearls. What stands out in my memory was when she looked at the children and, with light in her eyes, invited them to look at a pearl inside a shell. The pearl of great price. Each face looked so interested and each pair of hands was so curious examining the pearl.
Soon after, the children moved to different parts of the room. There were child-size tables, chairs, and shelves. But most interesting were the miniature altar, prayer table, and liturgical pieces that the children were "playing" with.
But the children were engrossed in what only looked like play. This did not feel like a play room. It felt more like a holy space. I felt like I was watching children in their own space praying. It was quite wonderful.
The space was called an atrium and the adult was a catechist of the Good Shepherd program. Now that I have my own child, I see how this experience informs my own motherhood.
It's hard to fully describe the sacredness I experience whenever I'm with my daughter Chiara. My child has made me want to be a hero. She has made me feel complete tenderness. She has taught me to live life deeply. I know that parents can have difficult times with children, but my feelings about any of the difficulties don't matter once I enter into the mystery of who my child is. Maybe my entering into that mystery touches her, too. Maybe she feels my deep respect and love for her and she is moved to return it.
I just know that I completely understand what Maria Montessori calls the apostolate of the child in her book The Child in the Church. She says that we cheat ourselves of the fullness of adulthood, of the true nature of fatherhood and motherhood, unless we allow children to do what they are called to do in our lives. If we do not try to understand the child's soul and needs, if we live without allowing the child to influence our lives, then civilization is lost. Civilization cannot survive from our adult desires for what is convenient and useful. We can only survive through the nobility and self-sacrifice that the child brings out in us.
I started my two-year training to be a catechist of the Good Shepherd last November. It's been hard to sacrifice family time every week. But Richard and I both believe that if our spirituality in the home becomes stronger and richer as a result, then it's worth it. I have observed Chiara in the atrium environment. She usually looks for the materials highlighting the Good Shepherd parable – where the Good Shepherd calls his sheep by name and they follow him. The materials include a shepherd, some sheep, and a sheepfold with a gate that opens and closes. She "plays" with the materials, moving the sheep in and out of the sheepfold.
One night before bed, she asked me, "Can you tell me about the shepherd and the sheep?" And so I told her the parable. The next day, she told me, "Mama, I want my own sheep and shepherd!" And during our thanksgiving prayers after dinner, she said, "Thank you, God, for God."
I love how the atrium environment speaks to her. As a child, she absorbs everything through her senses. For her, to work with the child-size materials with her hands is to contemplate and to pray. My role as a catechist is to prepare the environment that allows her to enter into that contemplation. And then to step back humbly and allow her all the time and space she needs. Until the message is as personal and as deep in her heart as she wants it to be.
I try to carry this attitude of the catechist of the Good Shepherd toward children and their religious formation into my home. And it colors my whole relationship with Chiara. I pray with her, I pray for her, I pray through her. I feel God's presence when I'm with her. I feel awakened to all that is beautiful and holy. And so I say thank you to my daughter. Thank you for blessing me with these precious years of your childhood. Maybe one day when you become a mother, you will understand the depth of my gratitude towards you. I love you so much.
This article originally appeared on Fathers for Good and is used with permission.