by
Marge Fenelon
on Mar 14, 2011 in
Columnists
,
Live in Christ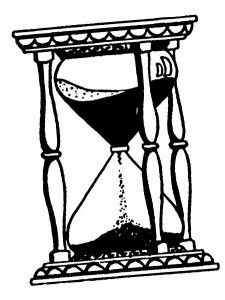 "Mom, that's cheating!" our 15-year-old son reprimanded me.
"Well, whatever works, right?" I tried to defend myself.
"Yeah, but it doesn't really count if you don't do it on your own," he insisted. "I still think it's cheating."
"Fine. You can see it anyway you want, but I don't see it as cheating so I don't have a problem with it," I shot back.
He walked out of the room with a 'humpf" and left me to my own devices – literally.
John had caught me cheating at prayer. More precisely, he had caught me using my cell phone's calendar feature to remind myself to say the Angelus, Divine Mercy Chaplet, and Compline in addition to morning prayer, meal prayers, and night prayer. I set it to buzz at noon, three o'clock, and nine o'clock each day so that, no matter where I am, I'll be reminded of these prayer times that have become so important to me.  Of course, my argument with John was good-natured, but it did get me thinking.
When the kids were younger, it was easier to remember prayer times. I was always checking the clock anyway, trying to estimate upcoming diaper changes, naps, meals, and, since we've got some chronic conditions in our family, medications. Now that Fenelon Clan has grown out of that life phase and the kids and I are older, it's more difficult for me to recall these little "in between" prayers. I'm on the road a lot, running errands and taking John to various activities. If I'm not out and about, I'm steeped in a project. The tiny digital numbers in the corner of my computer screen are too subtle for my notice.
My solution was to enlist the help of my cell phone to signal me when it's time to stop for prayer. That's the part to which John objected. In his thinking, prayer that's dictated by a digital device isn't as meaningful as prayer that rises from the yearning of the heart.  I'd rather have prayer that's been digitally dictated than no prayer at all. I think we're both right.
I'm reminded of our Lord's words about prayer to his disciples:
And when you pray, you must not be like the hypocrites; for they love to stand and pray in the synagogues and at the street corners, that they may be seen by men. Truly, I say to you, they have received their reward.
 But when you pray, go into your room and shut the door and pray to your Father who is in secret; and your Father who sees in secret will reward you.
And in praying do not heap up empty phrases as the Gentiles do; for they think that they will be heard for their many words. (Mt 6:5-7)
Although I don't pray in synagogues, I do sometimes pray on street corners! I pray on street corners, in parking lots, waiting rooms, on highways and even in grocery stores. I even prayed in line for the women's rest room once when the line was so long it wound down the hall at a Christmas concert! When my cell phone alarm goes off, I pray, no matter where I am. Granted, I might put it off a few minutes if I was in the middle of a conversation or some other non-interruptible task, but I do pray even if it's briefly and spontaneously. My prayer times have become part of the rhythm of my life; when I skip them, I feel as though something is missing from my day, and it is.
I do make time for more elaborate and contemplative prayer at other times, and I often wish that my third-hour prayers could be more deliberate and less rushed. But that's not the reality of my life right now. I'll have to satisfy myself with these little connection points sprinkled throughout my schedule because I believe that a brief connection with God is better than no connection with God. And if it takes cheating to do it, by golly, I'll do it.
(© 2011 Marge Fenelon)