by
Marc T. Newman, Ph.D.
on Apr 13, 2011 in
Featured
,
On TV and Movies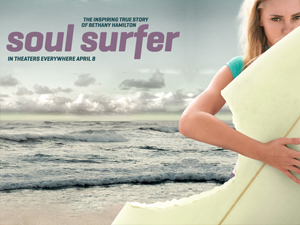 Bethany Hamilton has an extraordinary story to tell. Working hard to enter the ranks of professional surfing, by the age of 13 she already had a sponsor. But her life was shattered one morning in 2003. Out in the water, on a beautiful day, she was attacked by a 15-foot-long tiger shark. The shark bit through Bethany's surfboard, and took off her arm at the shoulder. In a sport that requires the ability to push up on a floating, moving piece of foam and fiberglass, the loss of an arm would be, for most people, a career-ending injury.
But Bethany Hamilton is not "most people."
Her incredible adventure is the subject of a new film, Soul Surfer, opening nationwide on April 8th. The filmmakers are banking on the idea that the public is ready for a film that champions the triumph of family, faith, and the human spirit – not usually a big stretch, except that in this case they are willing to share Bethany's life, all of it, including her deep faith in the Lord Jesus Christ.
Hollywood Portraying Christians
Hollywood has been hamstrung over the years trying to figure out how to portray faith in film. They appear to be successful only when the movie is set in the past, as with Amazing Grace, Chariots of Fire, or A Trip to Bountiful. There have been a few exceptions. Because of Winn Dixie featured a modern-day preacher's family. Tyler Perry's films have a strong faith element. And the Sherwood crew behind Facing the Giants and Fireproof have demonstrated that they can make profitable films.
But in 2009, Hollywood hit real pay dirt with an incredible sports story that involved a family of committed Christians: The Blind Side was the story of how the love of a family turned Michael Oher from another homeless black teen into an NFL powerhouse. Sandra Bullock, who portrayed mom Leigh Anne Touhy, won an Academy Award for best actress. The film was enormously popular with the public. The good news is, Soul Surfer is this year's The Blind Side.
Bethany's Ordinary/Extraordinary Life
At first glance, Bethany Hamilton (AnnaSophia Robb) is not much different from thousands of other aspiring surfers. She is young, hungry, and competitive – preferring to spend her time out in the water (it even makes her late for church). She has supportive parents – themselves surfers – who homeschool their kids, and take them to church at Calvary Chapel. Bethany sits with her parents (Dennis Quaid and Helen Hunt), sings during worship, seeks advice from her youth leader (Carrie Underwood), and talks about boys with her friend and fellow surfer Alana Blanchard (Lorraine Nicholson).
But once the shark attacks (a scene shocking in its brevity) everything changes. Bethany's family life is altered by her disability, her surfing career now appears impossible, her hopes for romance seem dashed, and even her understanding of God is challenged. Why would He allow this to happen?
Setbacks and Suffering
There's nothing easy about Bethany's attempt to return to surfing, but with her family's help and the support of her friends and church, she bravely re-enters the water. But success, for Bethany, isn't just being able to get up on the board, she wants to be able to compete and win. It is a rough ride.
Along the way, the film challenges Bethany, and the viewers, to place their own suffering in context. After a demoralizing failure, Bethany is tempted to give up surfing. She goes on a mission trip to Thailand to bring relief to the tsunami-ravaged country. Seeing the people, whose lives were completely destroyed, reorients Bethany's thinking. She uses her surfing skills to help the young overcome their understandable fear of the ocean. She begins to reevaluate her own suffering and how it can be used. Bethany is ready to return and try again.
Catch the Wave
Soul Surfer is a blast. The surfing footage is first-rate. Make sure you stay for the credits. It was probably the best instance I have seen in film of documentary footage dismissing any thought that this film is just Hollywood hype. This telling of Bethany Hamilton's story is the real deal. If you are looking for movie that will both entertain and stretch you about your ideas of what is possible, Soul Surfer is your film.
[CL editor's note: The author of this review is not Catholic. The film portays Protestant worship and a Protestant view of Christianity. We hope soon to bring you are review of this film by a Catholic.]