by
Dr. Paul Kengor
on Dec 23, 2014 in
Columnists
,
Featured
,
On TV and Movies
,
The Social Order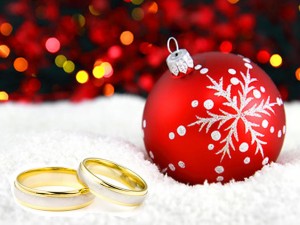 A few days before Christmas, I checked the schedule for Turner Classic Movies, one of the few TV channels I watch. I was looking for Christmas movies, maybe the 1938 Reginald Owen version of "A Christmas Carol" or something like that—something for the family. I was pleased to find three favorites back-to-back that I've seen with my wife and daughters, all nice Christmas romances—and all with a similar happy ending.
The first was I'll Be Seeing You (1944), starring Ginger Rogers and Joseph Cotten, with a smaller role by a charming teenage Shirley Temple. Cotten is a World War II veteran struggling with what we would call post-traumatic stress disorder. Rogers is on Christmas furlough from prison (of all things), unjustly serving time for an accidental death that was purely self-defense. Wonderful as always, Gingers Rogers doesn't dance or sing in this one (no Fred Astaire), but plays a compelling role. The Rogers and Cotten characters fall in love, with Christmas as the suitably warm and fuzzy back-drop.
The next film on TCM's offering that day was Christmas in Connecticut (1945), starring the great Barbara Stanwyck and the lesser-known Dennis Morgan. Here, too, the guy was wounded in World War II. Stanwyck is a food writer for a home magazine. She is initially confused for a married woman, which (thankfully) she is not, clearing the way for a snowy Christmas romance, replete with the horse-drawn sleigh through the countryside.
The third movie was Holiday Affair (1949), with Janet Leigh and Robert Mitchum. Here again, the background is Christmas and World War II, as the Mitchum character, another veteran, pursues Janet Leigh, a single mom who lost her husband in the war. It's a touching, fun movie, well-written—back when dialogue was more important to moviegoers than non-stop action sequences.
What strikes me about these and other films from Hollywood's Golden Age are two things: First, Hollywood once made lots and lots of major films with major stars celebrating Christmas. Second, in each case, no matter how different the plot, there was always a common end-goal: marriage. From the outset, marriage is the assumed, unquestioned objective, from the moment the guy and gal catch one another's eye or heart. The goal isn't a one-night stand or wild weekend or trip to Vegas, or living together to try out each other for a few months or years.
The one predictable plotline is a heartwarming romantic pursuit—set within a sparkling Christmas context—that ends in holy matrimony. What is the happy ending? What does it depend upon? Marriage.
Think about other favorite Christmas movies from the era. At the core of It's a Wonderful Life is the wonderful life Jimmy Stewart and Donna Reed forge together. Look at White Christmas: another war story, with Irving Berlin's magical music, that's all about getting together Bing Crosby and Rosemary Clooney in a church before a preacher. The two that conspire to bring them together, Danny Kaye and Vera Ellen, end up marrying as well—after they all sing "White Christmas."
Or, take the precursor to White Christmas, the 1942 musical Holiday Inn, with Bing Crosby and Fred Astaire. The boys battle over the lovely Marjorie Reynolds for her hand in marriage. The ambition for the boy is not to get the girl to bed and move to his next conquest, but to get her to the altar and stay with her forever.
That America, sadly, is gone. For countless Americans, marriage is no longer the goal. It has become optional, replaceable, switchable, less preferable to living together. There's a popular term now in our culture: "baby-mama" or "baby-mother," which a man uses to describe the single mother of his child (or, conversely, "baby-father"). It's extremely common.
I recently spoke to a pediatrician from a small town that's as close as you can get to traditional values. He told me he had 12 new babies to attend to in the maternity ward, born over the previous couple of days. Only two of the mothers were married. Yes, the moms chose to give life, which was commendable, but they didn't have marriages and homes with fathers for their babies.
I don't know how long America can survive this. When marriage isn't being merrily redefined, it's being shrugged off as merely optional. We're no longer celebrating marriage as we once did. Hollywood certainly isn't.
I don't see a happy ending to this story. We need a culture that celebrates not only Christmas but marriage.