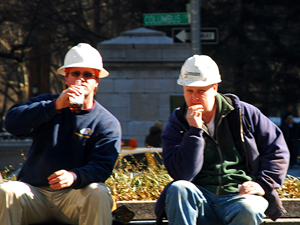 [1]What does "Total Commitment," mean? Well, the synonyms for "commitment" are: promise, pledge, binder, obligation, dedication, and loyalty.
There is an old story about the Chicken and the Pig who were walking along the road. They saw a sign for Perkins Restaurant showing an ad for ham and eggs. The Chicken said to the Pig, "Doesn't that look delicious? Maybe we should stop in and partake of a meal." The Pig replied, "No thanks, for you that is partial involvement, for me that is total commitment."
Last week in The Catholic Spirit, the local Archdiocesan newspaper for the Archdiocese of St. Paul and Minneapolis, in Minnesota, there was a story about a young man named Tim Roach. Tim is an electrician and he and his wife Nicole and their two children, August and Adeline, live in Faribault, Minnesota, about 40 miles south of my home in Bloomington.
In the bathroom of their home, Tim and Nicole have a sign which reads, "Gratitude — Always remember to count your blessings." Due to the slow economy, Tim, like many Americans, was laid off — in July of 2009. So, what's to be grateful about in that? Well, Nicole still had her job full time, as media specialist for Akin Road Elementary School in Farmington, MN, a short distance from Faribault. And Tim had the unemployment compensation benefits (though they are scheduled to run out the end of this month).
Then one morning, Tim got a phone call from his union rep who called and offered him a position of job foreman for a construction site in St. Paul, about 45 miles away. The job would last approximately 11 months, and the pay was $65,000 to $70,000 a year. Tim's heart leapt for joy. God had blessed.
Then came the explanation. The job was constructing the new Planned Parenthood Clinic to be located in St. Paul. Tim's heart stopped. Tim said to the rep, "If this is Planned Parenthood, won't there be abortions performed there?" The union rep kind of sidestepped the question, trying to get Tim to take the job. However, Tim pressed. "Wait a minute; it's Planned Parenthood, right?"
Tim ended the conversation in less than a minute. He asked no further questions, he had the information he needed to make his decision. No, he did not even talk to his wife. Later, Nicole would say, " What struck me most is that he turned it down immediately. He had within himself that sort of moral upbringing that had him immediately recognize that to take the job was not the right thing to do."
In Chapter one of Romans, Paul tells the Roman Church that "wicked" people are not grateful to God who has blessed them abundantly. Paul states, "Although they know the just decree of God that all who practice such things deserve death, they not only do them but give approval to those who practice them."
Tim Roach knew intrinsically that, although he could rationalize that he was not advising anyone to have an abortion, or that he was not advising any one to perform abortions, by supervising the construction of that building, he would, "give approval to those who practice them."
At the end of the article, Nicole said, "In the last six months, we've learned to take our fears and worries and give them to God. It's really changed me and my faith. I feel like I'm proud to be a Catholic and proud to take a stand against abortion."
The new Health Care Bill provides some $38 Billion to Planned Parenthood to do what they are doing in St. Paul. It is hailed as "stimulating" the economy and providing jobs that are needed for people to feed their families. Apparently, the Roach's do not think that way.
Good for them!