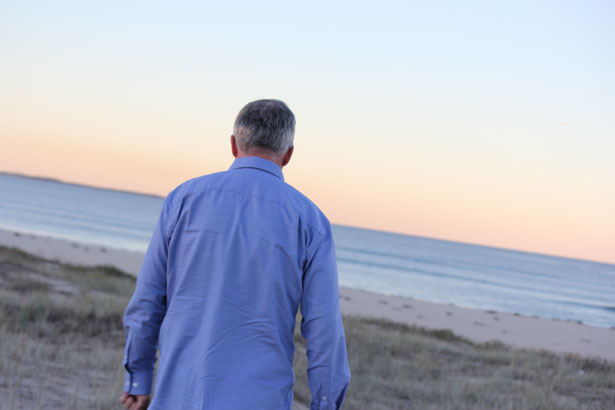 Clinical depression borders on being an epidemic in our world. Consider that about 15 million adults in the United States have been diagnosed with the illness. And the number of people diagnosed with major depressive disorder has been increasing by about 20 percent annually. Although about a third of those people won't get much relief from any current treatments, the good news is that two-thirds of sufferers do respond positively to medication, counseling and other types of therapy.
If only curing spiritual depression was so easy.
Perhaps you never have thought of depression as a spiritual state. Let's change the word from something that sounds not quite so medical or biological. Instead, regard it as spiritual melancholy, sadness, misery, despair, gloom. Juxtapose such a condition with opposing spiritual feelings: delight, happiness, hope, blessed … joy.
Oh, now you understand a little better, perhaps. Who hasn't felt that way spiritually now and then? In fact, many Christians put on a spiritually depressed, joyless face so often and obviously, it's probably one reason people are walking away from the Church rather than filling the pews every Sunday. Faith that looks depressing isn't particularly attractive.
If things of God don't seem so delightful, there surely are plenty of alternatives in the secular world that at least give a temporary and surface feeling of delight. Conversely, one of the reasons Christianity spread so quickly in the early centuries was the joy exuded by so many followers of Jesus. People saw Christians filled with hope and delight and wanted some of the source providing it.
Spiritual depression isn't a recent phenomenon, though. The condition has attacked countless people of faith for years, including many in the Bible – even some who now we consider some of the greatest people of faith in history.
Take King David, for instance. In Psalm 42, he wrote/sang:
Why are you downcast, my soul;

why do you groan within me?

Wait for God, for I shall again praise him,

my savior and my God.
Even though David knew his God was worthy of praise, would be his savior, if only he had some patience, that didn't mean squat to David's downcast soul. He couldn't feel the joy despite knowing it existed. Like clinical depression, spiritual depression can be a situational state. It might pass. But while you're in the midst of it, preaching patience is as futile as pouring water on steel and expecting the steel to absorb all of the liquid.
Like clinical depression, spiritual depression can feel paralyzing, never-ending, painful, overwhelming, isolating.
That came to my mind when I listened to those Scriptures we heard during Mass last weekend on the Fifth Sunday of Ordinary Time. Let's quickly look at each of the three main characters in those readings:
Isaiah. One of the Bible's greatest prophets, he talks about a vision in which he saw God and heard angels praising him in a loud voice. Alas, Isaiah wasn't feeling it. "Woe is me," he said. "I am doomed! For I am a man of unclean lips."
Paul. Surely the greatest of all Christianity's missionaries, he writes to the church in Corinth that "I am the least of the apostles, not fit to be called an apostle, because I persecuted the church of God."
Peter. Chosen by Jesus Himself to be the leader of the early Church, Peter grudgingly agrees to follow the Master's suggestion/command to take his boat back to the lake and toss his nets into the water in search of fish. The day's earlier excursion already had been a miserable failure, but Peter obliged. The result was a haul so large the nets were tearing. "Depart from me, Lord, for I am a sinful man," Peter tells Jesus.
Well, Peter, who isn't a sinful man or woman? If never yielding to weakness and a sinful nature was the only way to obtain eternal life in heaven, the afterlife would be a pretty lonely existence. Jesus, Mary, John the Baptist and … um … yeah, that pretty much does it, according to Church teaching.
Frankly, that sense of spiritual depression tends to descend upon my mind about three or four times every day. It is rooted in an overwhelming realization that I am not worthy of God's love. Have you felt that? Have you wondered why God cares to save you and love you and take care of you unconditionally when all you do is break promises to him, when you often are so weak that you take the selfish way and not the Divine way?
I'm raising my hand: Guilty!
Again, who is worthy of God's love? Not me, not you, not the greatest and best-known of the canonized saints, not the most saintly people we ever have encountered. Fact of life: Nothing we are and nothing we do naturally merits the love of God. Better fact of life: God's nature isn't like ours. We are worthy of God's love because God loves us. Doesn't matter who you are or what you've done, God can't deny His love for you. And that qualifies you as worth.
There are several ways we can help ourselves out of the pit of spiritual depression. We can take steps to improve our physical health; when our soul isn't healthy, depression can invade. We can spend time studying Scripture or the lives of the saints. We can spent more time in prayer. We can enlist a companion to accompany us through any trials that have come our way. We can weaken the attachment we feel to things of the material world.
We can steer our minds away from being focused on our sin and instead seek forgiveness, implore a loving God for His mercy. The more we are able to clear away the burden and trappings of depression from our sin, the sooner we will be able to recognize the way God has blessed us, the grace He has provided us, the love available to us. And the easier it will be for our melancholy to fade, making way for joy.
Granted, spiritual joy probably isn't on its own able to solve a clinically depressed man or woman. I am living proof of that. If the neurotransmitters in a person's brain aren't behaving properly, spiritual contentment won't automatically provide a sure cure. Not to say that it can't happen. I would say a more likely scenario would involve spiritual joy being a big part of a person's treatment, perhaps to the extent of providing the strength and desire to pursue all the other aspects of treatment.
When you encumbered by the weight of unworthiness, turn the eyes of your heart toward God. Take that first step toward claiming the spiritual joy awaiting