by
Philip Primeau
on Aug 15, 2013 in
Featured
,
Government & Politics
,
International Issues
,
The Social Order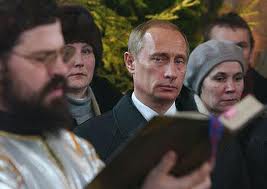 Vladimir Putin was recently savaged by prominent Catholic blogger Simcha Fisher, who called him "evil," "fascist," and "an enemy of free people and free speech" because of his disregard for the civil liberties which many American Catholics treat like divinely-revealed dogma. Mark Shea seconded Mrs. Fisher's severe judgment with typical sarcasm. "He's not some new Constantine," he harrumphed.
An interesting comparison, Constantine. After all, Constantine has long been revered by Catholics. He is celebrated as a saint among oriental Christians. The eastern Catholic churches, following the Orthodox, even afford him a feast day (May 21). While the Latin church withholds that highest of honors, it nevertheless venerates him for the role he played in the establishment of Christendom.
Yet just like Putin, Constantine was a powerful tyrant, a violent man of blood and steel, who went so far as to execute his own son. He also put to death his wife—at the request of another saint, Helena, called Equal to the Apostles.
The fact is, Mrs. Fisher and Mr. Shea do not scorn Putin because of his disregard for Christian values—which he is struggling mightily to restore, however spotted his own soul may be—but because of his disregard for the dangerous ideals of the Enlightenment. These liberal ideals, such as "freedom of speech" and "freedom of religion," are sacred to many Catholics, despite the church's longstanding contempt for such intellectual licentiousness.
Let us not obscure the truths of history, nor be ashamed of them! The Church—understanding that man requires good and godly order to flourish—has long supported and venerated powerful sovereigns, princes and lords intolerant of political and religious dissent. Saint Louis was for centuries upheld as a model sovereign: "the most Christian king of France." Yet he crusaded against Muslims, suppressed Jewish holy books, and persecuted Christian heretics. Mr. Shea mocks those "traditionalists" who dream of Christianizing the world with the arm of the state, but no less a saint than Ambrose of Milan worked intimately with Emperor Theodosius to suppress Hellenistic paganism using the full might of the Roman government.*
I do not mean to canonize Putin. Nor do I deny that he is, like all men, a grave sinner. No doubt he has innocent blood on his hands, and he should be held accountable for his transgressions. The ideal Christian sovereign would possess not only the serpent's cunning, but also the dove's harmlessness. But how often the ways of the world render this balance impossible!
Neither Mrs. Fisher nor Mr. Shea have any idea what it takes to preside over a troubled nation like Russia. Despite his failures (and they are significant), Putin has succeeded in pulling Russia back from the brink of total social collapse and political chaos. He recognizes that the Christian faith is not only helpful, but absolutely necessary, to national well-being. For that, at least, credit is due and approval warranted.
Of course, my point here is not so much to praise Putin as to rebuke those Catholics who would sacrifice the church's traditional teachings and colorful history—the totality of her identity—on the altar of the Enlightenment. This blogospheric kerfuffle is not ultimately about the president of Russia, but about the relationship of the Catholic church with liberal modernity. Should this relationship be characterized by compromise or conflict? Should we redouble our defense of the ancient faith, or reform (while pretending to do otherwise) those doctrines which the contemporary "individual" finds unpalatable?
The disparate answers to this question reveal a divide among orthodox Catholics. Putin, for all of his manifold flaws and misdeeds, recognizes that Christian civilization—indeed, civilization in general—is fundamentally incompatible with disordered liberal "freedom." On this count, he stands on the side of the angels. Where do Mrs. Fisher and Mr. Shea stand?
Putin may not be a new Constantine. But if we were to witness the rise of a new Constantine, would Mr. Shea and Mrs. Fisher embrace him? Or would they label him a fascist and an enemy of Christian civilization? Have the boundaries of Catholic "orthodoxy" so shifted that the great princes of Christendom—and the great popes, too!—would no longer find a spirit of fellowship among those who call themselves champions of tradition?
We thus come to the heart of the matter: the "Putin Question"—which can just as truly be called the "Constantine Question"—is really a question concerning the continuity of Catholic identity over the last century or so. Rather, it is a question concerning the lack of continuity of Catholic identity over the last century or so. Are we the same church today that we were five hundred, one thousand, fifteen hundred years ago? If we reject Putin, must we reject Constantine? And if we reject Constantine, must we reject a rough and tumble pope like Urban II? What would the modern "orthodox" Catholic make of the call to crusade? Or God's command to Israel to conquer the Promised Land? These questions defy easy answers, from traditionalist and modernist alike. They force us to consider our identity—our past, but also our future.
Is Putin so different than Constantine, Theodosius, Saint Louis, or any of the other countless heavy-handed, sword-wielding princes and prelates who governed Christendom for close to a millennium and a half? Can we reject him without rejecting them? And what do our answers to these questions say about our understanding of the Catholic church? Enough of the easy contempt and juvenile sarcasm for Putin. We cannot judge him without judging ourselves—for better or for worse.
*This is absolutely not to advocate forced conversion, but simply to show that there is some role for the state in the creation and maintenance of a Christian commonwealth.