by
Valerie Pokorny
on Jun 24, 2011 in
Featured
,
Marriage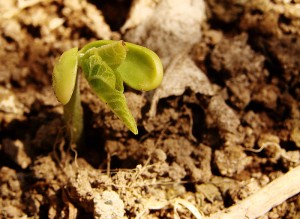 Before my husband and I married, I was blessed with the opportunity to live in Austin and work for a leading pro-life lobbying organization. Ironically, one of the biggest benefits of my work was the exposure to the talking points of the abortion-rights camp.
You see, I very quickly realized that in order to sustain the arguments that side so passionately brought to the table, the life experiences of the people making those arguments had to be very far removed from my own.
This realization really hit home one day during a hearing at the Capitol when an Austin-area citizen was arguing against the Choose Life license plate, which raises funds to promote adoption.
The man's argument had little to do with adoption itself. He vehemently opposed the entire pro-life cause for one main reason: It was better to get rid of "unwanted children" in the womb because otherwise they would be a financial burden on the state. In other words, he believed that in one way or another, most children who were at risk of being aborted would otherwise be born into such a life that other taxpayers would end up supporting them, whether through child protective services, incarceration and rehabilitation, food stamps, or any combination of these and other government-funded programs.
Suddenly I had a flashback.
It was a summer holiday (pick any of them) and the majority of my mom's side of the family was gathered at my grandparents' small lake house. The adults were inside — sitting at the table, doing dishes in the kitchen, feeding the little ones — engaged in a lively discussion about some current event in their community. The kids — almost two dozen of them, the oldest in high school and the youngest barely born — were EVERYWHERE. Snitching cookies, catching frogs, playing tag, vying for a spot on the hammock, gathering the uncles for a backyard game of softball. The oldest kids were talking to their favorite aunts or uncles, raving about the latest Christian rock band or answering questions about sports and school. The youngest, sweetly sleeping or cooing infants, were being passed around ­— or, rather, snatched as often as possible from Grandma's greedy hands.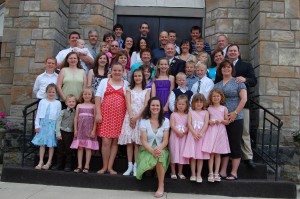 This was an almost weekly occurrence for our family. All six of the children in my mom's family are to this day happily married with kids. My mom had five, the next brother four, the next brother six, the next sister and brother four apiece, and the youngest brother three.
Each and every child was welcomed, a cause for celebration, a much-anticipated drama to watch unfold. Each baptism, First Communion, and Confirmation offered the opportunity for a mini family reunion. Every Christmas found us gathered in a tiny cabin somewhere in that hometown area, a flurry of food, fellowship, and tiny fingers itching to unwrap the presents under the tree. As family members (like me) grew older and pursued careers and vocations outside of the community, Grandma exercised her legendary arm-twisting methods to try to keep the family as close together as possible.
Sure, there were disagreements and difficulties. Sure, the family's high standards would challenge each budding young adult as he or she came of age. Certainly, parents sacrificed time and again to make sure their children received quality education and even more important, quality family time.
But the beauty of life as I knew it growing up was that no child was ever seen as a burden. Everyone in that family community created a loving, safe, encouraging environment that expected great things of each and every little person entrusted to them. And by "great things" I mean a happy, moral life leading to a fruitful vocation in the form of either marriage and family or priesthood or religious life.
Back to that hearing room in Austin.
As this man's testimony went on, I mourned the fact that so many in our world today have not had themselves, nor have been exposed to, healthy, functioning family life. They truly don't know what they're missing — and as a result, don't know what they are actively depriving others the opportunity to have. These are people who, by their own fault or no fault of their own, have experienced a norm of abuse, crime, selfishness, divorce, abandonment, ridicule, and any other vice imaginable in their families and their communities, and have lost hope that anything else is possible.
Others have seen the current trends and likewise believe that this "reality" has trumped the "old-fashioned" ideal. In truth, there seem to be so many obstacles to a healthy, functioning family life today that as an entire culture we have switched to "individual survival mode." Does this not explain how abortion, contraception, divorce, and a live-and-let-live attitude toward sex can be seen as the only viable, and indeed reasonable, options to some?
My heart aches to be a ray of hope into the lives of those around me, through the witness of my family. I firmly believe unless the world is given more examples of healthy family life (or at least examples of families striving for this standard!), we're going to continue to see more and more people playing by "individual survival mode" rules and trying to impose them on the rest of society.
I know that it won't be easy — personal sin and the structures of sin in our society affect even those of us who are consciously striving to live out this vocation. But I take great comfort in the words of Bl. John Paul II, found in his 1994 Letter to Families:
Dear families, you too should be fearless, ever ready to give witness to the hope that is in you … Do not be afraid of the risks! God's strength is always far more powerful than your difficulties!
Letter to Families is a beautiful and relevant resource that can be found on the Vatican website, www.vatican.va.