by
Monica Hannan
on Mar 21, 2018 in
Featured
,
Live in Christ
,
Travel

Meeting a Future Saint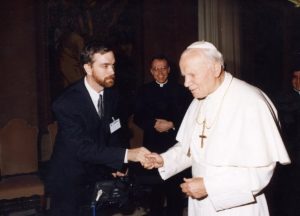 In the 80s, my husband Cliff, a news photographer and reporter, accompanied Bismarck, ND Catholic Bishop John Kinney to Rome to record his five-year Ad-Limina visit, which is an obligation of church hierarchy to visit the tombs of the apostles, and to meet with the pope, in this case, Pope John Paul, II.
Any time a Catholic visits the Vatican it's exciting. But this trip was extra special for Cliff because he was able to shake the hand of the future saint and he also received a videotaped blessing for the people of the Diocese of Bismarck.
During the visit, Pope John Paul gave a Rosary to Bishop Kinney, who in turn gave it to Cliff. And Cliff gave it to me. It's one of my most prized possession.
Long an admirer of St. John Paul, I always think I can feel his loving presence when I pray with that Rosary, knowing how much he loved people.
Padre Pio's Relics Venerated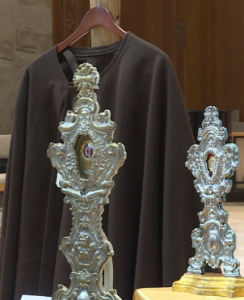 I got a similar sensation when I visited the Cathedral of the Holy Spirit in Bismarck, one of 40 locations across North America selected to host the relics of St. Padre Pio in commemoration of the 50th year of his death.
I was at the church twice, once early in the day when the sanctuary was filled with students from schools throughout the area. The second time was in the evening when the church was filled almost to overflowing with people standing in line, sometimes for quite a while, to have the chance to view and touch the relics.
The atmosphere in the church was one of quiet expectation. The lighting was subdued, music was playing, and people in the lines and in the pews were prayerful. I wasn't alone in this feeling.
"There was such a peacefulness and a quiet faith and witness, and people were just streaming in," says Patti Armstrong. She arrived at the church at 7:30 in the evening and stayed through night prayer at the end.
"The music was so powerful," she adds. "The church was filled to overflowing and people were singing without accompaniment. All those voices. There was a deep, holy echo that reverberated through the church and it was so beautiful that I couldn't pull myself away."
Nobody kept a count of exactly how many people visited that day, but estimates are between two and three thousand. It says a lot about us, no matter where we are on our journey to redemption and our faith, that we are drawn to what is holy. Some people had remarkable experiences that stemmed from the visit. Read about of them here:
Two Supernatural Experiences Associated with Padre Pio Relics