by
Julie Machado
on Jun 18, 2013 in
Cooking & Food
,
Featured
,
MyChurchParish.com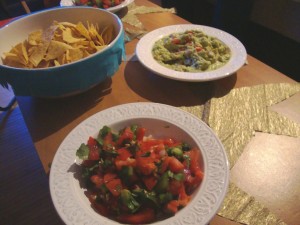 Some of the fondest memories I have of this past year are the dinner parties I hosted at my house on liturgical feast days. They are memories of friendship, laughter, communion and a full heart. I thought I had come up with this wonderful idea of hosting saint day parties on my own, until I discovered the plethora of ideas on Pinterest and other blogs. Which is great, because I think this is one more example of a good use for the internet.
Parties are an extremely important part of life. Life is an up and down of positive and negative emotions, good and bad moments, and the Church in her infinite wisdom has been celebrating different seasons, penitential periods and feast days since the beginning. Parties are most definitely biblical and are important marks in life. They remind us of what's important and point to the great heavenly feast we are all invited to. Intimate dinner parties foster relationships and conversation. They stimulate creativity, in making a beautiful environment or food, and can include the beauty of music. If they are in honor of saints or feast days, they are an opportunity for the domestic church to accompany the universal Church, to learn more about saints and church life, and also to teach others about these important things. Why make up holidays when we have so many different ones on our liturgical calendar, with rich diversity of cultures and traditions? This great article says that not only do Catholics host the best parties, as they should share this lost art with the world.
Here are some suggestions for hosting the best Catholic party ever:
–          Simplicity: You don't need to spend a lot of money on food or decorations to host a good party. In fact, a party should not speak of overindulgence or materialism, but should still reflect the joy of poverty and a spirit of family. A bouquet of flowers (for example, roses today for Our Lady of Guadalupe), a simple garland, special food and music would make an excellent party. It's not the material items that make the party, although they can contribute, they are still details.
–          People: Which brings us to our next point… It's the people that make a party. Who you invite and who comes is the most essential part of the party. It should be a moment of intimacy and communion. I would say invite non-Catholics and Catholics, even if you're praying or sharing about Catholic traditions (as long as you let them know beforehand).
–          Wine: Other than good food (of course), good wine (and not in excess) is not only biblical, but very Catholic. It's a sign of joy and something that Jesus also drank with his friends.
–          Music: The right ambiance is important for a good party and we're lucky enough to live in an era where it's a click away. Music from the country of origin of a saint is fun… or why not try classical or jazz?
–          Dress up: This can be a good way for people to feel part of something and also prepare themselves appropriately. "My friend, how is it that you came in here without a wedding garment?"(Mt 22:12) For my Feast of the Immaculate Conception party, I asked guests to come dressed in white. For Our Lady of Guadalupe, we tried to dress as Mexican as possible. If there isn't a theme, parties are always a great time to dress up nice. See Jennifer Fulwiler's great article about that here.
–          Prayer: Last but not least, there should be something that brings people together at some point during the party. For St. Patricks day, we each shared something we felt "lucky" for. Or it could be a simple toast. I also think it's fitting to have prayer at some point during a Catholic party and it's the best thing to bring people together. The rosary is simple and great, especially if it's a Marian feast day.
Whether you invite a big group or just one family member, parties are great ways to come together and celebrate what's important. There are lots of resources out there to help with ideas and history of saints, such as Catholic Culture liturgical calendar. There are some interesting boards on Pinterest such as on Catholic Sistas. I also love looking at the parties on A Shower of Roses. Here is her "Our Lady of Guadalupe Tea".
Originally published at Ignitum Today.