by
Trent Beattie
on Apr 26, 2014 in
Evangelization
,
Featured
,
Interviews
,
Live in Christ
,
Sports
,
Vocations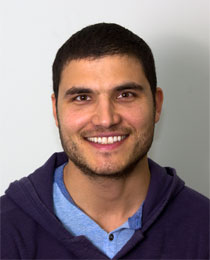 Eric Mahl has always loved a challenge. In his youth, it was the prospect of being the best football player ever. This desire drove him to bench press 450 pounds, earn an NCAA Division I football scholarship and later a place on the Cleveland Browns' roster.
The 30-year-old Ohio native's challenge now, however, is sharing the message of Divine Mercy with the world — particularly the poor and most abandoned. This has meant enduring regular rejection and sometimes sub-freezing temperatures on the streets of Cleveland and other cities, in the hope of convincing souls that God's love for them has not expired.
Eric Mahl spoke about his radical transformation with Register correspondent Trent Beattie.
Did you grow up in a devout home?
Growing up in the very small town of Monroeville, Ohio, our family never missed Sunday Mass, and I attended Catholic schools. However, it stopped there for me, because I didn't really understand what was beneath the surface of what we did as Catholics. I am thankful, however, for the Catholic upbringing I had, because if I never had it, I probably would have gone even further astray than I did.
When did football enter the picture?
I started playing football in middle school and enjoyed it immensely. From that point through high school, football was where my heart was. Everything I did — whether it was eating, sleeping, working out or making friends — was all centered on football.
Teammates would talk about how it would be wonderful to be as great as certain players from previous high-school teams in the 1970s or '80s, but I wouldn't limit myself by admiring or emulating one player. I wanted to be not only as good as one other player, but the best player ever, and not just on offense or defense, but both.
Frater Matthew Desme, formerly with the Oakland A's organization, said that baseball was his idol. Could the same be said of football, in your case?
Almost. I was so heavily into football, but it wasn't for football's sake; it was for my own. So I'd say my idol was really myself. It wasn't so much the game of football itself that drew me, as it was the challenge of being the best at it. I would work out twice and sometimes even three times a day, just to ensure I would be the strongest player on the team.
That desire to be better than everyone else was present throughout high school, but in my senior year, seeds were planted for attaining a better understanding of what Jesus had to give us through his Church.
I was asked by a woman in our parish to talk to the eighth-grade confirmation class about living out the Catholic faith in daily life. I was surprised she would ask me because I wasn't really living as I should have been. What she saw, however, was my attendance at Mass every Sunday. This was noticeable because so few high-school students would ever attend Mass at the local parish. I was chosen to speak to the eighth-graders by default.
The talk to the eighth-graders went very well — so well, in fact, that I wanted to know about what I had just described. I had the script down, but the possibility of the script becoming real caught my attention. At this same time, devotion to the Blessed Mother, which included praying the Rosary daily, become a part of my life.
How did Mary guide you from there?
At Kent State University, where I had a football scholarship, I was at a Protestant prayer group. The leader wanted everyone to share when they "got saved." This was perplexing to me because "getting saved" was not part of my terminology. I thought that I must have "gotten saved" on the day of my baptism. I realized then that Protestants and Catholics actually do believe different things.
I was driven to look deeper into what the Church teaches on salvation and every other topic. This took place mainly through a little store in Streetsboro, Ohio, called Our Lady's Gifts. When I first walked in, the owner, Madeleine, asked me, "Are you wearing a brown scapular?" I told her that I wore one while playing football in order to prevent injuries, but didn't wear one all the time. Well, that wasn't good enough for her. The scapular should be worn all the time, she explained.
Then Madeleine told me about the Divine Mercy message and devotion. Before I left the store, she had taught me how to pray the Chaplet of Divine Mercy and had given me the novena prayers and the Diary of St. Faustina. The promises that Jesus made to St. Faustina about his mercy touched my heart. I wanted to experience that forgiveness and mercy I read about in the Diary.
I continued to visit the store once a week to ask questions, and I was introduced to more great Catholic books. Some of the Carmelite ones were Story of a Soul by St. Thérèse of Lisieux, Interior Castle by St. Teresa of Avila and Ascent of Mount Carmel by St. John of the Cross. Then there was The Imitation of Christ by Thomas à Kempis, Introduction to the Devout Life by St. Francis de Sales and The Glories of Mary by St. Alphonsus Liguori.
As you learned more about the faith, did you become detached from football?
In high school, I was very much into football. I set many weightlifting records and was able to set more in college. However, as I began to learn more about the faith in college, I slowly began to see football in its proper light. I started to realize there were more important things than my own glory. The glory of God was becoming more of a priority for me.
I still had a good collegiate football career and was then able to play for the Cleveland Browns in 2005. Yet I never felt comfortable with the extreme wealth and all the glitz of professional football. I even questioned whether I should play at all on Sundays, but the people I asked were more impressed with the fact I was in the NFL than with my question.
I wanted to continue playing football for myself, but also for the people in my hometown. No one from Monroeville had ever gotten close to the NFL, so I saw myself as an inspiration to the area. Yet, by this time, I was going to Mass and reconciliation frequently, all the while growing in my prayer life. I longed to live a life completely centered on Christ, but didn't have the courage to leave football.
I would even pray, "Lord, please let the team cut me." This hope was uttered a lot, but by the time I was playing for the Jets later in the 2005 season, I prayed it before the Blessed Sacrament and really meant it. Only 10 minutes later, I was called in to see the head coach, who said, "Eric, you're the hardest-working player on the team, but we're going to cut you."
My prayer had been answered, but upon hearing the news, I cried like a baby. I knew it was the right thing, but I wasn't completely detached from football yet. There was still an emotional pull, so it was very tough to leave what I had put so much effort into.
How long did it take for you to be completely freed up emotionally?
Not that long, really. After my initial letdown, I felt a tremendous freedom, like I had been unchained to pursue better things. I started working in medical-equipment sales. I found it fairly easy to make the sales quota, so there was plenty of extra time to spend praying before Jesus in the Blessed Sacrament.
I was so thankful for God giving me so much: a great family, a great job, the ability to embrace my faith more completely. At one point, I prayed, "Lord, what can I give you in return?" I felt him respond, "Give me everything."
What the Rich Young Man in Matthew 19 was instructed to do, I actually did. I sold (or gave away) all that I had — except the clothes I was wearing and one change of clothing — and gave the money to the poor. I then informed my parents I was going to be a hermit, which came as quite a shock.
Many people thought I was depressed, but they didn't know I was in love. I was in love with God, and I wanted to spend the rest of my life in prayer and sacrifice, alone with him. I joined a community of Carmelite Hermits in Texas to pray for the salvation of the world. After three years of praying and meditating on the Gospels, I discovered in a new way that God is love and mercy itself, going to the greatest extremes to love sinful humanity back into communion with him.
This time of prayer and solitude was such a tremendous gift that allowed me to experience a great intimacy with God. I remember when I truly began to understand God's love for all people, but especially for great sinners, it turned my world upside down. I could then see that God was asking me to love him in the poor and rejected.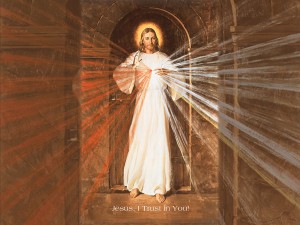 Near the end of my third year with the Carmelites, I heard in my heart Our Lord saying, "Go to the National Shrine of Divine Mercy [in Stockbridge, Mass.], present yourself to Father Joseph, and tell him of your desires to take Divine Mercy to the poor." I also knew in my heart that I was to go there on a certain date, Feb. 2, the feast of the Presentation of Jesus in the Temple.
I did not fully understand this request of Our Lord, but I knew he was asking for a simple "Yes." I gave that "Yes" joyfully, although I did not know who Father Joseph was or how I was going to get to the National Shrine by Feb. 2. Then the community flew me back to my parents, and my parents helped me the rest of the way.
How was the idea of bringing the Divine Mercy message to the poor received in Stockbridge?
Well, I learned soon after arriving that "Father Joseph" is the honorary title given to the director of the Association of Marian Helpers, and the priest who currently holds the title is Father Michael Gaitley, who has written the bestsellers Consoling the Heart of Jesus and 33 Days to Morning Glory.
It was a joy for me to meet with and open my heart to Father Michael. He listened intently as I let loose with great enthusiasm about bringing the Divine Mercy message to the poor. He explained that, at the time, the Marians in America didn't have a direct outreach to the poor, so he recommended some other religious communities that did. He also gave me some wonderful advice about being Divine Mercy to others. Then he blessed me, and I was on my way.
So how did you get to where you are today, working with Father Gaitley?
After that first meeting, I felt a bit confused. It seemed that the Lord had sent me to see this "Father Joseph," but there wasn't anything for me in Stockbridge. So I visited the communities he recommended, but none of them were a good fit. I was even more confused then, but I decided to stay faithful to the mission by going to the streets of Cleveland and living among the homeless as one of them. I stayed in shelters and ate donated food, all the while listening to those around me and sharing the message of Divine Mercy.
In the United States, there are many places for the poor to get food, clothing and shelter. However, what is far, far more difficult to get is another person's time. People often don't want to take the time to listen to the poor, to interact with them as fellow human beings. By my living as a homeless man, there were no boundaries for me to be their brother. I was able to give them what is so often lacking.
What were some of your biggest challenges in this work?
Many people were drawn closer to God in beautiful ways, but there were certainly challenges. Sometimes I was rejected by the very people I set out to love. That was a real blessing, though, because the rejection helped to draw me into a greater union with Jesus, who was also rejected by those he came to serve.
I was also rejected by some people in the Church — the same people who, years before, had looked very favorably upon me as a member of the Cleveland Browns. There were some people at a certain parish who thought highly of a pro football player in 2005 but judgmentally of a homeless man in 2012. Little did they know that it was the same man. I had been clean-shaven with nice clothes way back when, but last year was wearing a long beard and very plain, even dumpy, clothing.
It might sound depressing, but it was actually the most hope-filled time of my life. Barriers were broken down, and real human interaction took place. Many hearts were touched by the mercy of God. And I was deeply humbled and very grateful to God for allowing me to be an instrument of his merciful love.
How did you get back to Stockbridge?
A year later, on Feb. 2, 2013, I felt the Lord telling me to go back to see "Father Joseph." A friend drove me back to Stockbridge, and I got to talk with Father Michael again. I expected it to just be a quick meeting, but I was surprised at what transpired.
I handed Father an old but attractive image of Divine Mercy, which had been given to me. What I didn't know was that, just 15 minutes before we met, Father had asked the Lord to send someone to help him with a project whose goal was to bring the Divine Mercy image to everyone. When I walked in the door, Father later told me he was praying silently, "If he's the one you're sending, please give me a sign." Well, I gave him the Divine Mercy image, which was his sign.
Now, I pray and work [as a layman] with the Marians at Stockbridge. Father Michael made me his liaison for communities that work with the poor, and we've started our own outreach to those in need called Mercy for the Poor. We've been able, through the generosity of others, to distribute hundreds of thousands of free Divine Mercy images to those in need. We've also been able to distribute more than a million free copies of Father's Marian consecration book, 33 Days to Morning Glory.
Divine Mercy and Marian consecration are interrelated, because Mary's goal is always to draw souls closer to her Son in order to quench his thirst for love. Mary's role is to be our mother, and every mother wants what's best for her children. When we entrust ourselves to Mary to act fully as our mother, she takes us to the pierced side of Christ and places us in the rays of his Divine Mercy. She really is the "quickest, easiest and surest" way to Jesus!
I look back now and see how merciful God has been in my life. It's beautiful how he took my self-centered desire for greatness and transformed it into a desire to do all things for the greater glory of God and the salvation of all souls.
Jesus' commandment to love our neighbor as he loves us is radical. To love one's enemies is radical, and to be merciful as he is merciful is radical. This doesn't mean we all have to sell everything we have and live with nowhere to lay our heads, but we all must go out of our comfort zones and seek the true good of our neighbor. This is a challenge we face head-on by first experiencing the mercy and love of God as our Father, which will then compel us to share it with others.