by
Patrice Fagnant-MacArthur
on Mar 13, 2015 in
Disability, Sickness & Suffering
,
Featured
,
On Books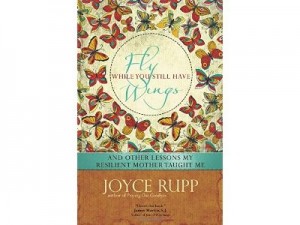 Sr. Joyce Rupp, a member of the Servants of Mary, is well-known for her spiritual writings as well as for her work as a retreat director and conference speaker. In her latest offering, Fly While You Still Have Wings (Sorin Books, 2015), she focuses on her mother, both the example of her life and the impact her declining years and death left on Sr. Joyce. She wrote this book hoping to help "others, both those entering their later years and those who are accompanying or care for them."
Hilda Wilberding Rupp lived from March 24, 1916 until April 20, 2000. She grew up during the depression, and after her own mother died in childbirth, she became a surrogate mother to her ten siblings. She married Lester Rupp in 1937 and then devoted herself to raising her own family. She was a kind, generous woman remembered as a "Queen of Hospitality." Rupp paints a flattering, but honest portrait of her mother. Like most of us, she had many good qualities, and also her faults. She also portrays her own shortcomings, acknowledging that she wishes that she could have her aging mother back, "so I could be kinder and more understanding."Yet, in time, she has come to grips with her regret and learned from it.
In watching her mother's slow decline as she aged, Rupp learned much about the aging process and how to relate and be kind to those who are aging. She also learned some lessons on how to accept her own aging with grace and dignity. Rupp has much wisdom to offer to those who face the difficult challenge of caring for someone who is in the last years of life. And while none of us truly know how we will react to our own aging process until we get there, Rupp's mother offers a positive example of how to accept those inevitable changes and, if we need it, accept the care of others.
Fly While You Still Have Wings is a tale of a particular mother and daughter navigating the elder years together, but it will resonate with many who walk similar journeys. A Reader's Guide featuring reflection questions is also included for use by individuals or book groups.