by
Carlos Caso-Rosendi
on Oct 28, 2011 in
Apologetics
,
Featured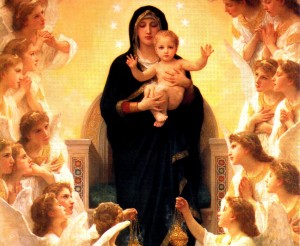 Chapter 7
Mary's Sinless State
When Adam and Eve disobeyed, condemning their descendants to sin and death, God revealed His plan to redeem mankind through the mystery of the Incarnation. In His divine wisdom God decided to be born of a woman. This extraordinary woman He had selected before all time to be His Mother is the Virgin Mary.
Luke 1, 26-30 — In the sixth month the angel Gabriel was sent from God to a city of Galilee named Nazareth, to a virgin betrothed to a man whose name was Joseph, of the house of David; and the virgin's name was Mary. And he came to her and said, "Hail, full of grace, the LORD is with you!" But she was greatly troubled at the saying, and considered in her mind what sort of greeting this might be. And the angel said to her, "Do not be afraid, Mary, for you have found favor with God.
The angel told Mary that she was going to be the Mother of the Messiah. He also told her that she had been selected by God for this very important and very holy task. It should be obvious to all believers that God in His holiness, could not inhabit the womb of a mere sinful woman. Yet, some argue that Mary was just another sinful creature, stained by the effects of original sin just like any daughter of Eve.
Romans 3, 20-26 — For no human being will be justified in His sight by works of the law, since through the law comes knowledge of sin. But now the righteousness of God has been manifested apart from law, although the law and the prophets bear witness to it, the righteousness of God through faith in Jesus Christ for all who believe. For there is no distinction; since all have sinned and fall short of the glory of God, they are justified by his grace as a gift, through the redemption which is in Christ Jesus, whom God put forward as an expiation by his blood, to be received by faith. This was to show God's righteousness, because in His divine forbearance He had passed over former sins; it was to prove at the present time that He himself is righteous and that He justifies him who has faith in Jesus.
Some use this verse alone ("all have sinned,") in a crude attempt to prove that Mary could not be sinless, because that would introduce a contradiction in the Holy Scriptures. They do so without considering the context of the words of St. Paul. When we read all of the Letter to the Romans we see clearly that St. Paul is talking about mankind in general. If we were to take verse 23 as an absolute blanket statement, that everyone without exception is a wicked sinner, then even Jesus would fall into that category. That would truly produce a biblical contradiction!
In reading the context of the whole chapter 3 of the Letter to the Romans, we can clearly understand that a) God in His grace has power to forgive transgressions, and b) that no human being by his own effort can be fully justified before God. The key to understand this situation is 'grace'. The grace of God is what makes human justification possible. Mary is "full of grace" (Luke 1, 26-30) and that is not because of her own effort but as a fully undeserved act of God who prepares her in advance to be the New Eve, the Ark of the New Covenant, the spouse of the Holy Spirit and the Mother of God the Son. Reading further into the Letter to the Romans we find how St. Paul illustrates this point using the lives of Esau and Jacob, the sons of Isaac.
Romans 9, 11-16 — [T]hough they were not yet born and had done nothing either good or bad, in order that God's purpose of election might continue, not because of works but because of his call, she was told, "The elder will serve the younger." As it is written, "Jacob I loved, but Esau I hated." What shall we say then? Is there injustice on God's part? By no means! For he says to Moses, "I will have mercy on whom I have mercy, and I will have compassion on whom I have compassion." So it depends not upon man's will or exertion, but upon God's mercy.
God in His infinite wisdom selected Jacob to be the ancestor of the Messiah. That grace was given to Jacob without any merit of his own. It was simply God's will acting on him for the benefit of mankind. There is no reason why God would not apply the same principle to Mary, who was destined to serve God in a much more privileged position than the patriarch Jacob.
When he writes "all have sinned" St. Paul refers only to those capable of committing sin. Yet Mary was exempted from original sin by God, not by her own means. She was spared the stain of sin in preparation for the unique role she had to play in the salvation of mankind. Can God do this? Yes, He is absolutely able to do it. The sacrifice of Jesus is "once and for all", eternal and rescues people who lived before and after his death on the Cross.
St. Paul says also: "He [God] justifies him who has faith in Jesus". This was done with Mary in a perfect manner because it was necessary for the salvation of mankind. Only with Mary this was done in advance. She is the first to put faith in God's means of salvation when she says: "Let it be done to me according to your word." (Luke 1, 38)
Romans 3, 11-18 — [A]s it is written: "None is righteous, no, not one; no one understands, no one seeks for God. All have turned aside, together they have gone wrong; no one does good, not even one. Their throat is an open grave, they use their tongues to deceive. The venom of asps is under their lips. Their mouth is full of curses and bitterness. Their feet are swift to shed blood, in their paths are ruin and misery, and the way of peace they do not know." There is no fear of God before their eyes."
Here St. Paul is quoting Psalm 14 to teach that those who are wicked are all sinful without exception. The same Psalm also shows that the righteous are those who live godly lives. Neither St. Paul, nor the Psalmist ever intended to teach that all humans without exception are completely wicked. There are plenty of persons in the Bible that are called righteous and just in spite of having inherited original sin.
Luke 18, 18-26 — And a ruler asked him, "Good Teacher, what shall I do to inherit eternal life?" And Jesus said to him, "Why do you call me good? No one is good but God alone. You know the commandments: `Do not commit adultery, Do not kill, Do not steal, Do not bear false witness, Honor your father and mother.'" And he said, "All these I have observed from my youth." And when Jesus heard it, he said to him, "One thing you still lack. Sell all that you have and distribute to the poor, and you will have treasure in heaven; and come, follow me." But when he heard this he became sad, for he was very rich. Jesus looking at him said, "How hard it is for those who have riches to enter the kingdom of God! For it is easier for a camel to go through the eye of a needle than for a rich man to enter the kingdom of God." Those who heard it said, "Then who can be saved?" But he said, "What is impossible with men is possible with God."
Many quote Jesus in Luke 18, 19 saying that " No one is good but God alone", thus arguing that Mary could not be perfectly good. One more time we must point at the context. Jesus ends his teaching here with the words "What is impossible with men is possible with God." I was the Almighty who poured His grace upon Mary until she was made perfect for her mission of receiving in her the life of her Maker. That is why the angel calls her "full of grace."
Luke 1, 47-48 — [M]y spirit rejoices in God my Savior, for he has regarded the low estate of his handmaiden. For behold, henceforth all generations will call me blessed.
Mary declares that she has been saved by God. She also mentions her "low estate". Some see in this an admission of sinfulness but such admission would contradict what the angel had just told her. Truly Mary can call God her savior, because God spared her from the common fate of mankind while she was still in her mother's womb. Mary was given the extraordinary grace of salvation in advance, so that she could be ready for her unique mission. The humble admission of her lowliness is not an admission of sin because every creature is lowly when compared to God. Jesus says "Take my yoke upon you, and learn from me; for I am gentle and lowly in heart, and you will find rest for your souls." (Matthew 11, 29)Admitting one's own lowliness is a sign of holiness and not an admission of sin.
Matthew 1, 18-25 — Now the birth of Jesus Christ took place in this way. When his mother Mary had been betrothed to Joseph, before they came together she was found to be with child of the Holy Spirit; and her husband Joseph, being a just man and unwilling to put her to shame, resolved to divorce her quietly. But as he considered this, behold, an angel of the LORD appeared to him in a dream, saying, "Joseph, son of David, do not fear to take Mary your wife, for that which is conceived in her is of the Holy Spirit; she will bear a son, and you shall call his name Jesus, for he will save his people from their sins." All this took place to fulfill what the LORD had spoken by the prophet: "Behold, a virgin shall conceive and bear a son, and his name shall be called Emmanuel" (which means, God with us). When Joseph woke from sleep, he did as the angel of the LORD commanded him; he took his wife, but knew her not until she had borne a son; and he called his name Jesus.
Does this mean that Joseph had marital relations with Mary after Jesus was born? The expression "but knew her not until she had borne a son" would appear to indicate that. Yet, we find the same expression in 2 Samuel 6, 23 and in several other parts of the Bible. There it says that Michal remained "childless until the day of her death". That obviously does not mean that Michal had children after that day. Many misunderstand the fear of Joseph, assuming that he doubted of Mary's purity. Yet Mary was betrothed to Joseph and most likely she informed her future husband of what the angel had prophesied.
About six months earlier, an angel had announced to Mary's relatives, Zechariah and Elizabeth that they were going to have a child (Luke 1, 5-25). Knowing all of that, Joseph could easily surmise that something was afoot. God was visibly acting in their lives.
The news from Mary must have certainly put fear in Joseph's heart. He would not dare to touch the woman whom God had set aside to be His living Holy of Holies! Only when the angel reassured him in a dream, he obediently accepted his mission to be the human keeper and putative father of the Messiah, thus conforming the Holy Family, a family of virgins entirely dedicated to do the will of God.